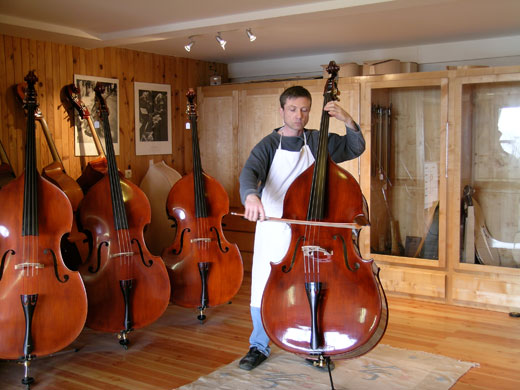 I began working full-time as a luthier in 1976 during a surge of interest in the revival of early music performance practice and ancient folk music. In fact, I was among the first French luthiers of that time interested in making violas da gamba and hurdy gurdies.

After visiting many European museums with ancient musical instruments, making tracings, and taking careful measurements, I made several copies of important historical instruments. In 1984, I began to study double bass at the conservatoire with Philippe Guingouain. My passion for playing also lead me to restore some double basses, and soon I found myself making new models altogether.

I met François Rabbath in 1991 and this was a turning point for me: his precise requirements, high standards of excellence, and his suggestions and collaboration with respect to resonance and set-up pushed me to improve the quality of my instrument, and have helped to earn me international acclaim.

This collaboration with Rabbath and others generated some important innovation. One of the most popular innovation is the angled endpin in a special conical hole near the back edge of the bass, now used worldwide, and known as The Laborie-Endpin.

In 1999 I earned a "Special Achievement Award" from the l'International Society Of Bassists.  Each year I am invited to give workshops and lectures in different countries about instrument making and set-up. This has been a rewarding aspect of my career as a luthier which has led to many more fulfilling collaborations with music colleagues world-wide.

Thanks Nicholas walker for his help.